EMPLOYMENT SERVICES provides creative and effective job opportunities for people of all disabilities. Participants acquire the vocational, social and personal skills necessary to find employment in the community and are placed in local offices, restaurants, retail establishments, markets, schools, farms and hospitals. Individuals work in the community as members of small job crews or in individual competitive employment. They may also participate in Community Based Day Services (CBDS).
Services provided to individuals include intake and needs assessment, vocational evaluation, transition planning, individualized service planning, case management, supported employment and transportation.
What we offer
Dedicated to cultivating relationships with local businesses and organizations, Minute Man Arc offers many different types of job placements designed to fit the needs of the individuals we serve such as:
Individual Employment matches employees with jobs according to their interest and abilities, coaching them to achieve success at the work site.
Group Employment combines employees into teams working to complete crucial tasks at community sites. Teams operate under the supervision of a Minute Man Arc job coach.
Job Creation/Customized Employment assists individuals and businesses in identifying jobs and volunteer positions in the workplace.
Community Based Day Services where individuals can choose to participate in activities designed to help meet Individual Service Plan goals in addition to holding a job or instead of attending the Day Habilitation program. Individuals are offered a wide variety of outings and activities to help explore their interests and broad their access to the community.
Referral Process

The Department of Developmental Disabilities (DDS), Massachusetts Rehabilitation Commission (MRC), the Massachusetts Department of Mental Health (DMH), and local school systems refer eligible participants to Minute Man Arc's Employment Services Program. Additionally, private pay options are available for individuals who are not referred by DDS, MRC and DMH.
Turning 22: Families with older teens are encouraged to begin transition planning by age 18. Some school systems will fund school-to-work experiences for participants prior to their 22nd birthday. Minute Man Arc also provides customized transition planning for individuals scheduled to begin services with our program.
For more information on enrollment in the Employment Services program or to suggest community employment opportunities, please contact: Barbara Jean White, Director of Employment Services at (978) 287-7990 or bwhite@minutemanarc.org.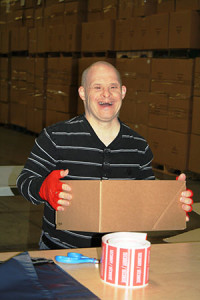 Program Hours:
9am-3pm , M-F (Job coaching is offered on weekends and evenings as needed)
Program Site:
Minute Man Arc Adult Day Programs and Administrative Offices
35 Forest Ridge Road
Concord, MA 01742
Brochure available for download
Employment Services Brochure
Current Employers
Chartwells
Concord-Carlisle Regional High School
Deaconess Abundant Life/Newbury Court