The Self-Advocates of Minute Man Arc believe in standing strong to advocate for the rights of members and peers, focusing on gaining knowledge to achieve a better tomorrow.
Who Can Become a Self-Advocate?
Individuals receiving services at Minute Man Arc are invited to participate in our Self-Advocates for Everyone (SAFE) group. Self-Advocates participate in trainings such as American Sign Language, nutrition and fire safety. They volunteer at agency events and in the community while also hosting activities and events for themselves and their peers. SAFE meets twice a month on Tuesdays from 5:45 – 6:45 pm at Minute Man Arc's Forest Ridge Road location.
Our Guiding Principles: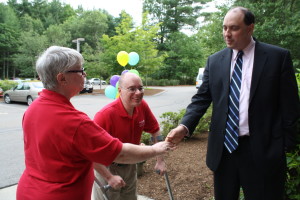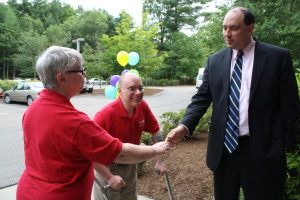 We advocate for ourselves in the community and educate others by being involved
We attend town meetings to hear about issues in the local community
We vote in elections and visit our legislators at the state house
We sit on advisory boards to have a say in other organizations
We participate in local events and community fairs
We like to help others who are less fortunate in our community
We volunteer by delivering meals on wheels
We run fundraisers, and collect items for donation to local organizations
We are proud of the good work we do
Contact information:
Kimberly Cochran, Social Inclusion Manager & Self Advocacy Coordinator
Phone: 978-287-7936
Email: kcochran@minutemanarc.org
Please visit The Arc of Massachusetts and The Arc (US) websites for self-advocacy and legislative advocacy information.